Your course login information will be in your inbox in a few minutes! In the meantime, get to know the teacher of the mini-course in this 2-minute video.

summer programs now open for enrollment!
Did you know:
School transitions are one of the most anxiety-inducing times for students.
But, research shows that exercises targeted to ease sixth graders' fears about transitioning to middle school reduce disciplinary incidents, increase attendance, and improve grades.
Our six-week summer programs are here to make sure these statistics won't apply to your child.
Get ready for middle school
---
Empower your rising 6th or 7th grader with the skills & tools they need to start the school year with less stress, ready to do their best.
get ready for high school
---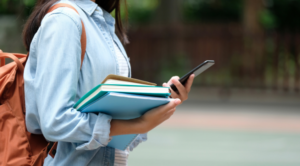 Make sure your rising 9th or 10th grader sees success early in high school with the executive function tools and skills they need to make the transition from middle school seamlessly and without unhealthy stress.
Academic Coaching
Help your child feel successful and happy in school, without constant nagging or knock-down, drag-out homework battles.
Our academic coaching and tutoring model uses an empathetic neuroscience-based approach to teach students to set themselves up for success and more calmly handle challenges that come their way.
With reliable support over time, students maintain robust systems and routines to improve their academic performance and feel better doing it.
the student membership
---
In The Membership, we will equip your child with the mindsets, systems, and skills they need to be happy and successful in school through:
Highly Attentive Coaching
Coaching and tutoring throughout the week help students master executive skills and mindsets as they get support to complete their school work.
Targeted Signature Courses
Expertly designed courses meet each student where they are to efficiently get them where they need to go.
Comprehensive Evaluation + Reports
Comprehensive learning profiles and clear ongoing reports provide you the information you need to know how your child is progressing every step of the way.
Ready to stop worrying about your child's academic future?